Two of my favorite bulk options are the black forbidden rice and millet brown rice ramen noodles. I'm a HUGE fan of broth, so the noodles are really just a vehicle for more broth. When I first moved to Santa Cruz in 1998, we were on food stamps and relied on free food twice a week from the church (I still rely on free food from my work, as the cost of living here in Santa Cruz is unethically high). The downtown farmers market would deliver leftover veggies to the church, which was a life-saver. Otherwise it was processed junk food, including those GMO and MSG filled ramen noodle cups, but we were grateful for any food at that point.
I'm excited to share with you my organic and whole food ramen recipe!
Meal Prep: Ramen Cups
If I'm making ramen lunches to eat throughout the week, I buy my ingredients ahead of time before I begin meal prepping. First I cook a big ol' batch of noodles and fill 2-4 pint sized mason jars half way full with them. Then I make a large quantity of broth and fill 2-4 other pint sized mason jars 3/4 of the way full. I don't combine the noodles and the broth until I'm ready to eat, because otherwise the they would absorb all the broth. The mason jar is great for food storage, as the lid is air tight and leak proof. It's also really easy to heat up when I'm at work or school.
Lunch & Dinner: Ramen Bowls
I also make ramen on the fly for lunch or dinner, and it takes very little time. Granted, I make vegetarian ramen, but on rare occasion I cook a piece of meat to add to my boyfriend's bowl. Overall I consider it an easy and time efficient meal to make.
Noodles
I'm able to purchase ramen noodles package free in bulk by bringing my own cloth bags instead of using the provided plastic or paper ones. If your bulk hookup doesn't have ramen noodles, ask them if they wouldn't mind bringing them in. If you want ramen noodles, chances are so do a lot of other people! I think it's worth the effort to ask. I've also gotten soba and udon noodles in bulk, which are another great vehicle for broth! If you don't have access to bulk foods at all, you might still be buying noodles in packaging; however, waste can still be prevented by making your own broth!
Veggies & Garnishes
Making ramen is a great way to use up produce or be creative with different vegetables and flavors. If I'm feeling flu-like symptoms I will increase the ginger in my broth. If I want a little more protein in my day, I'll cook an egg and add that. I like to use minced garlic, ginger, savoy cabbage, snow peas, cilantro, scallion, lime, carrot, and bok choy in my broth.
Broth
Because I frequently make vegetable stock at home from all my trimmings, I use it as the base for my ramen. If you're not down with this, don't have the time, etc., there are some other options for you. The majority of veggie and meat stocks are packaged in aseptic containers which do not recycle in most places, so I recommend getting a broth base in a glass jar. Better Than Bouillon has a great variety and it's possible to upcycle and/or recycle the glass jar. This is a more sustainable option than sending single use aseptics to the landfill.
Kind Planet's Ramen
Ingredients: Serves Two
3 cloves minced garlic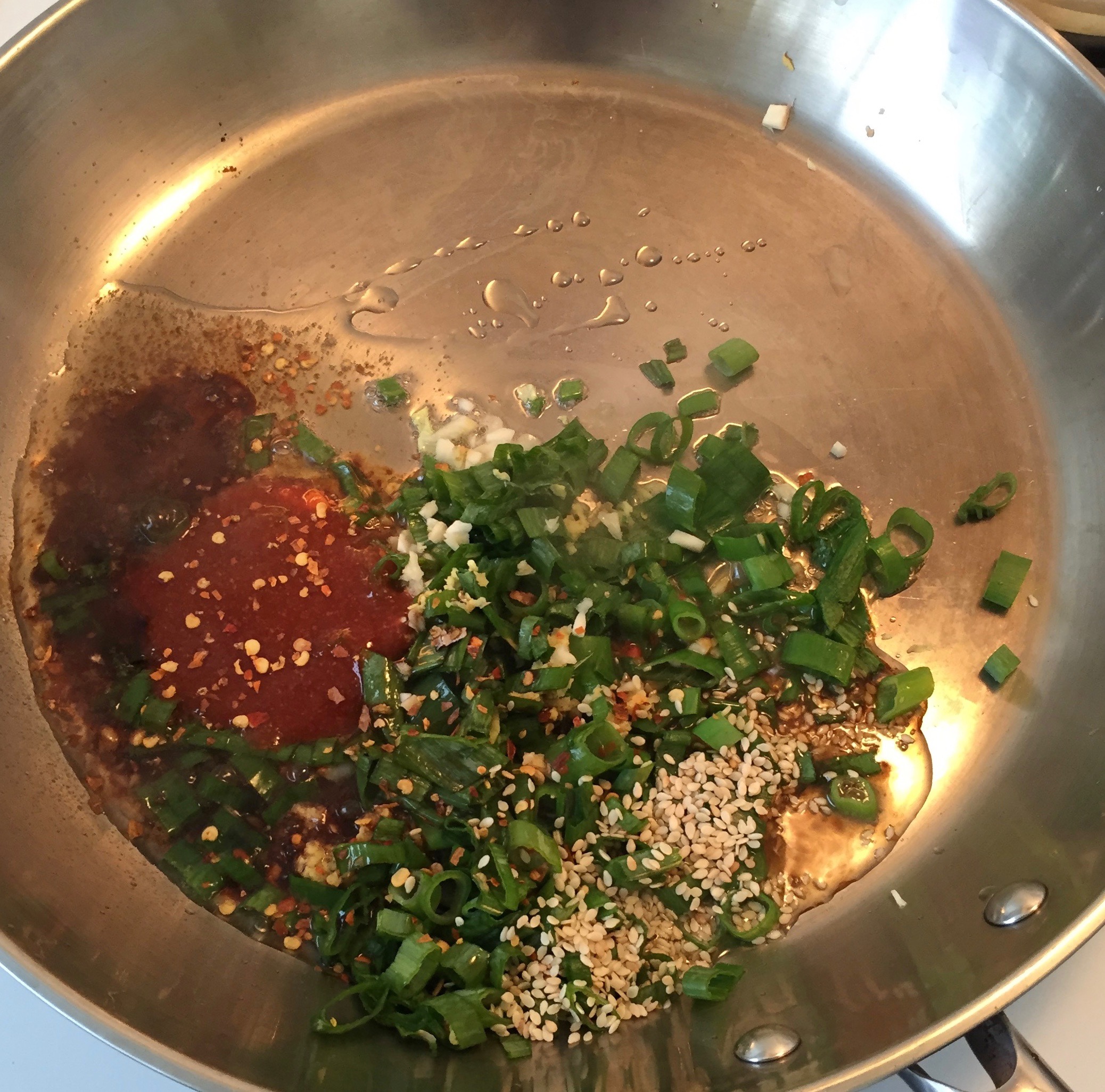 2 tablespoons sesame oil
1 tablespoon hot sauce or sriracha
2 teaspoons grated ginger
1/2 cup chopped scallions
1 tablespoon tamari or soy sauce
sprinkle of red pepper flakes
sprinkle of sesame seeds
Handfull of thinly sliced savoy cabbage
Handful of thinly sliced bok choy
4 servings of ramen noddles
1 quart veggie stock
The Steps: 1. Boil water and cook the ramen noddles for 5-7 minutes or until done to your liking. I add a dash of oil to the water to keep them from sticking. Once the noodles are done, strain them, and set them aside.2. On medium heat, add the sesame oil to a large frying pan and let heat up.3. Add the garlic, ginger, scallions, sesame seeds, red pepper flakes, hot sauce, and tamari and let sauté for 2 minutes.4. Add 1 quart of vegetable stock or 1 quart water with 1 tablespoon of Better Than Bouillon mixed in.5. Stir the the broth and let simmer for 2 minutes before adding the savoy cabbage, bok choy, and any other vegetable you want.6.Turn the heat down a hair and let simmer for 10 minutes or more. I taste my broth periodically to see if I need to add a little more tamari or not.7. Put your noodles in a bowl (or in mason jars if you're doing meal prep), add the broth and garnish with an egg, cilantro, lime, and anything else you desire.
Note, I strain my ramen noodle water into another pot to reuse it it to boil the egg. To cook a ramen egg, re-boil the noodle water, add the egg to the boiling water and cook for exactly 7 minutes. Remove egg from the water and submerge in an ice bath before peeling and cutting it in half. Then let that water cool and re-use it to water plants! Reduce, reuse, recycle!